Transforming Ideas into Exceptional Apps: Your Mobile App Journey Begins Here Empowering Innovation with Cutting-Edge Mobile Apps!
Your
digital presence,

taken to the next level
As mobile app development experts for iOS and Android in Sydney, we transform ideas into user-friendly, feature-rich applications. Our skilled team combines creativity and technical expertise to deliver custom solutions that engage users and take your brand to new heights.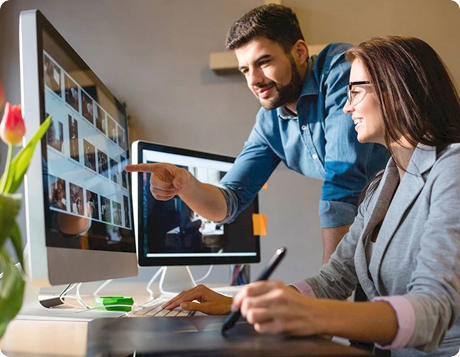 Great websites add great values to your business. From wire-framing to PSD designing, we do it all.

Idea Analysis

Design and Wireframing
Development

Testing and Q.A

Deployment and Support

Customized Strategy
Through in-depth analysis and consultations, we devise tailored strategies that precisely address your business needs and aspirations, guaranteeing a mobile app that perfectly reflects your vision.

UI/UX Design
Our highly skilled designers adeptly craft visually stunning and intuitive interfaces to optimize user engagement and satisfaction to elevate the overall app experience.

Agile Development
Embracing agile methodologies, our mobile app development Sydney iteratively develop your app to allow flexibility in adapting to changing requirements and seamlessly integrate new features.

Scalability
With a forward-thinking approach, we design your app to be scalable so it can accommodate future growth and cater to evolving user demands without compromising performance.

Robust Backend
Our expert developers construct a secure and reliable backend infrastructure that efficiently manages data and ensures a smooth functioning of your app.

Continuous Support
Beyond the development phase, our dedicated team offers continuous support and maintenance to ensure your app remains up-to-date, secure, and operates flawlessly so you to focus on your core business with complete peace of mind.
Darragh Brown
We are extremely satisfied with the business website created by Digital Fox. They understood our vision perfectly and brought it to life with a user-friendly design and seamless functionality. Their expertise in SEO has also boosted our online visibility, attracting more potential clients. Truly a top-notch service.