Crafting Exquisite Websites to Spark Growth, Enchant Customers, and Flourish in the Digital Sphere! Forging Digital Presence That Drives Success and Leaves a Lasting Impression!
Your
digital presence,

taken to the next level
Empower your business with our exceptional website creation services. We craft bespoke websites that embody your brand's essence and captivate your audience. Our custom solutions deliver seamless functionality and captivating designs, empowering you with a compelling online presence that drives growth and success.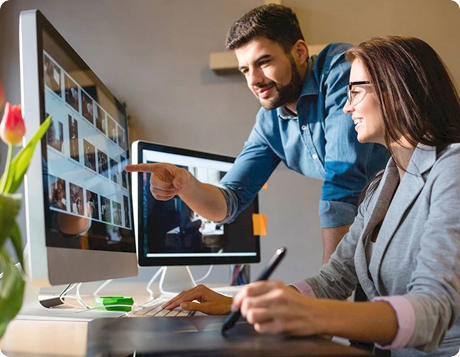 Great websites add great values to your business. From wire-framing to PSD designing, we do it all.

Responsive Design

SEO Integration
User Experience (UX)

Security and Privacy

Performance Optimization

Tailored Design
We believe in crafting unique websites that blend with your brand identity and business objectives. Our custom and affordable small business website design Sydneyensures that your website stands out and leaves a enduring impression on your audience.

User-Centric Experience
User experience (UX) is at the forefront of our strategy. After conducting in-depth research on your target audience, we create intuitive and user-friendly interfaces to make it effortless for visitors to navigate and engage with your content.

Mobile Optimization
We prioritize mobile responsiveness with majority of users accessing websites from mobile devices. Our websites are optimized to deliver a seamless experience across various screen sizes so that your message reaches users on all platforms

Search Engine Visibility
Our expert SEO team implements on-page optimization techniques to boost your website's search engine rankings. By strategically integrating relevant keywords and meta tags, we enhance your online visibility and attract organic traffic.

Scalable Solutions
We understand that businesses evolve, and so should their websites. Our custom and conversion focused website design in Sydney are designed to be flexible and scalable to allow easy integration of new features and functionalities as your business grows.

Ongoing Support
-Our commitment doesn't end with the launch of your website. We offer on-going support and maintenance to ensure your website's performance and security so you can have peace of mind and a seamless online presence.
Darragh Brown
We are extremely satisfied with the business website created by Digital Fox. They understood our vision perfectly and brought it to life with a user-friendly design and seamless functionality. Their expertise in SEO has also boosted our online visibility, attracting more potential clients. Truly a top-notch service.